BOOK – Socially Separate
Strategies to Separate Business and Personal Posting
---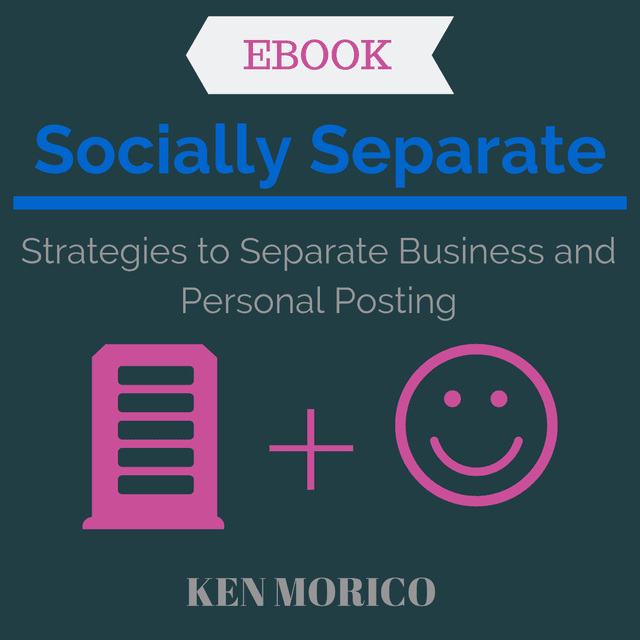 Socially Separate
Strategies to Separate Business and Personal Posting
Downloadable PDF / eBook
By Ken Morico
SUMMARY
Ever wonder if Facebook could be used for business? Have you ever thought there were tools and systems for effectively reaching the 2 billion people on Facebook, or just the 3 florists the live within 4 miles of you? I explain how to establish your Facebook presence in an ethical way. I explain the mechanism to separate your personal Facebook profile from your professional Facebook page, so users never see your crazy cat video interests on your business profile. In addition, I detail mechanical ways to help users like your Facebook page and magnify exposure.
Socially Separate is a labor of love and hard work.
Socially Separate was written in Houston, TX by me, a professional writer in 2013 and revised through the years.
Enjoy this free gift from me to you…
DOWNLOAD NOW
[PDF Version]
Like the Book? Want More Totally Free Content?
Subscribe to the Newsletter
Table of Contents
Facebook Page and the Facebook Profile
Use Facebook as Page
FaceBook Page Tab and the IFrame
Small Businesses Spending More on Facebook Marketing in 2011
Separate Accounts for Facebook Business and Facebook Personal Accounts
Can I Convert My Personal Facebook Profile to a Facebook Business Page?How Do I Convert My Personal Facebook Profile to a Facebook BusinessPage?
What Benefits / Features do Facebook Pages Have Versus Facebook Profiles?
I Want To Convert My Facebook Profile To A Facebook Page. What Do I Lose/ Need To Watch Out For?
I am a Consultant / Advertising Agency, How Can I Manage Many FacebookBusiness Accounts?
Facebook Timeline for Pages
Manage Accounts with HootSuite
Win Back Friends that Didn't Like Your Facebook Page
Psychological Reasons Why People Like Facebook Pages
Why People "like" a Facebook Page:
Mechanical Ways to Help Users Like Your Facebook Page
Build a Facebook Audience By Inviting Users – I Have an Email Address List
Permission Marketing – Filter Your True Fans
Email Campaign Difficulties
MailChimp – Free Email Marketing
Resources
About Ken Morico
When you're done downloading the book, see more books.